Thinking about the promotion, had a few theories i wanted to post about!
Here is some of the promo text:
(Highlighted some words that stood out to me)
Dragontech

wrote:Dragon

tech

aims to offer you

modern conveniences

done with artistic flair by top of the line

machinery and technology

! With Dragontech innovations in your life, you will always make the scene.

Wet rags and squares themselves can't resist the allure of Dragontech's miraculous designs, so get on the stick and join all the hep cats who have improved their daily lives with

radioactive illuminations

.

Stay in orbit with ALL of Dragontech's wonderful kicks by tuning in to bad-dragon.com regularly! Cast an

eyeball

on plenty of

boss creatons

in the coming weeks (including hot sides created by the wonders of Dragontech), ya dig?

Get up to date information by following @bad_dragon (or @PRPandaBD for exclusive content) on Twitter for updates on life in a Dragontech-controlled world!

Brought to you by Dragontech and Duka-Cola
And Some @PRPandaBD excerpts:
@PRPandBD

wrote:Machines do all the work for us. Well, machines and computers anyway. They always work perfectly all the time! Seriously, when was the last time you had an issue with something mechanical or electrical? Exactly! Never!
(could be just a nod to CRON)
@PRPandBD

wrote:Yep, as long as we have our Dragontech and Duka Cola we are all safe, and will definitely, absolutely, never ever need those "Survival Bunkers" that were created to protect against the nuclear boogeyman.
"Tech" "modern conveniences" "machinery and technology"
Really seems to be pushing tech on this one, so feels like it will primarily feature robots.
"radioactive illuminations"
Feels like GITD "Something", be it a color scheme, GITD lube, or maybe a hint at non-robotic toys being released.
"eyeball" "boss Creations"
Eyebots?
[spoiler]
[/spoiler]
Maybe an "End Boss"?
(might go as mirelurk or something?)
https://labs.bad-dragon.com/idea/view/879
Or (really stretching it) one of the "bosses" from fallout:
"Master"
[spoiler]Lookie! an extra eyeball!
          |
          v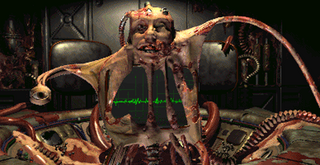 [/spoiler]
Other randomness
[spoiler]Just me, or does the Vault Suit remind you of
Ba
NAna
?
[/spoiler]

What do you think they will be doing for the promo?